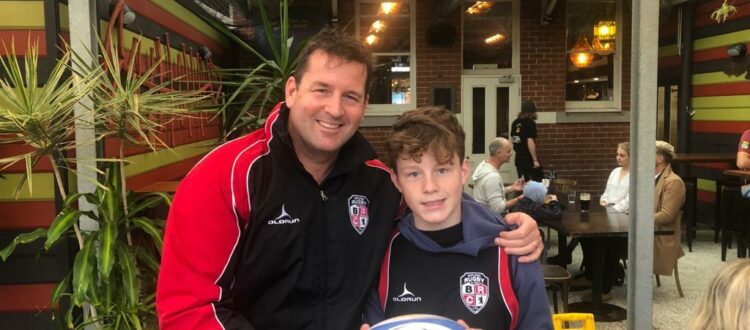 Der BRC stellt sich vor: Neues internationales BRC Mitglied Dave "Lightning" Hugo
Dear Dave "Lightning" Hugo,
The BRC is very happy to announce you as our new International Member. Welcome!
Tell us a little bit about you: where are you from, how are / were you engaged in Rugby, which position did you play?
I am from Perth, Western Australia. I grew up playing Aussie Rules football until the age of 12, when my South African father decided that it was time to play a 'real game' and got me into rugby. I've very glad he did.
I played for Murdoch University, Nedlands and Bank of England rugby clubs in my time, and played for the Western Australian under 21 representative side, usually as a second row or number 8. I'm still involved on the committee and as the legal counsel for Nedlands rugby club in Perth.
What was the reason to become a BRC member?
To fulfil my lifelong dream of being part of one of the world's premier sporting outfits.
(BRC-team comment: see picture of Dave and his son!)
When was the first time you heard of the Berliner Rugby Club?
In March 1994, when two strange-looking German fellas turned up to rugby training in Perth, Western Australia.
So you know Uwe and Manne for a long time. What's your favorite / funniest Story with those guys (that can be shared on a Website)?
It would have to be their house-warming party in Perth, complete with a mad Tongan war dance and the consumption of an entire frozen fish.
What was your biggest Success in Rugby?
My biggest success I think is all of the friendships I've made and travel I've been able to do through rugby – including the infamous 1996 'Northern Hemisphere' tour of the UK and Wales, in which we played against sides from Oxford, Cambridge and London House Universities as well as a Welsh team, with a motley team of rugby players collected from all corners of the globe (including 5 from BRC – Manne, Uwe, both Hoffmans and Jeannot Moutsinga).
What does Rugby mean to you?
A great way of life.
What would you like Rugby-Germany to look like in 5-10 years?
A team in the World Cup final!
And will you send your son to play for BRC in 2026 – the year of our 100th Birthday?
Sure, even though (to my eternal shame) he is a winger!
Thank you for taking the time today and for supporting us on our journey! We are looking forward to invite you to the next Bundesliga finals we will play!